Flying Advertising Banners
Custom Chutes, Inc. makes banners to fly on the parasail towline to advertise local businesses or enhance your own, banners can be tailored in length and made in a wide range of colors to suit your needs. We have two types of banners available traditional one message banner and changeable message banners.
Our Traditional banner is made from our 1.9oz UV protected parasail material, letter height is 60"(5ft) high and approximately 3ft width per letter, length is determined by the number of letter in your message (we have made banners 200+ ft in length). The banners are finished with tape around the edge and have rope loops at end, plus loops and clips approximately every 4ft along the top edge to hang the banner from the towline. For extreme visibility 120" letter height banners can be produced for use in curtain scenarios.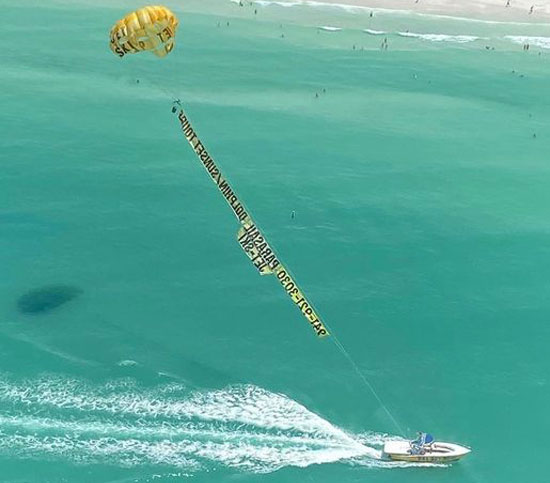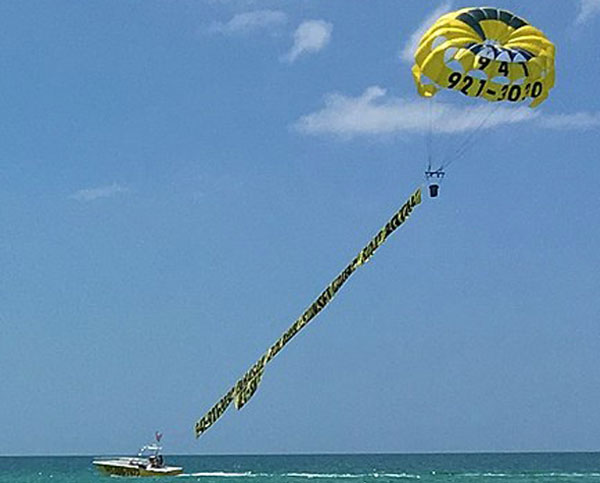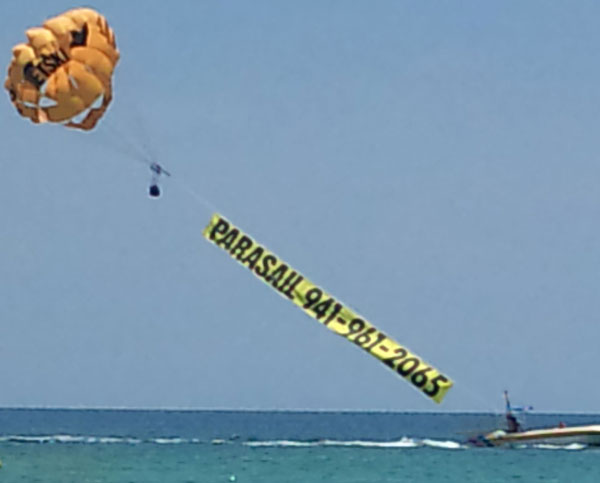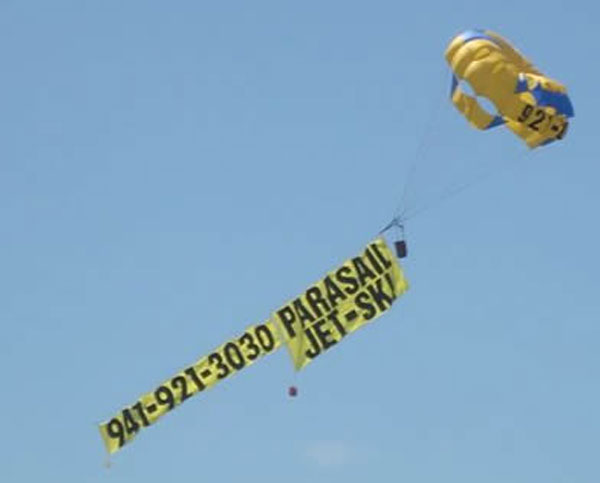 Our Changeable message banners allow the user to change the message quickly and easily to whatever they want it to be. The banner parts are still made with our 1.9oz material but are connected with a unique interlocking zipper system, freely allowing the user to interchange any letter or symbol they wish as many times as they like.
An individual letter, number or symbol can be purchased or for a more efficient setup we supply in options of a set of 40 pieces or 80 pieces, any time additional pieces can be added to your arsenal.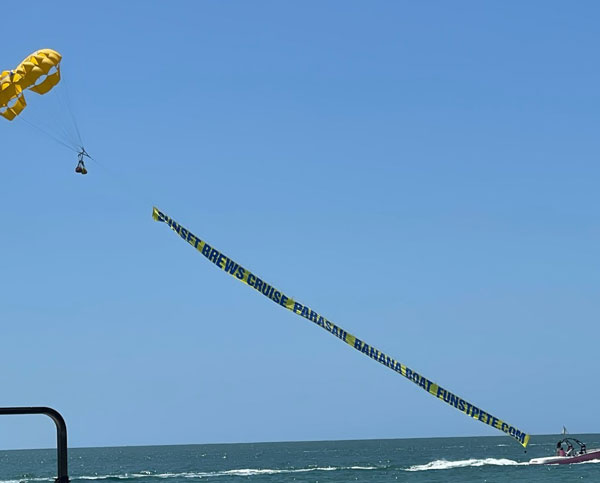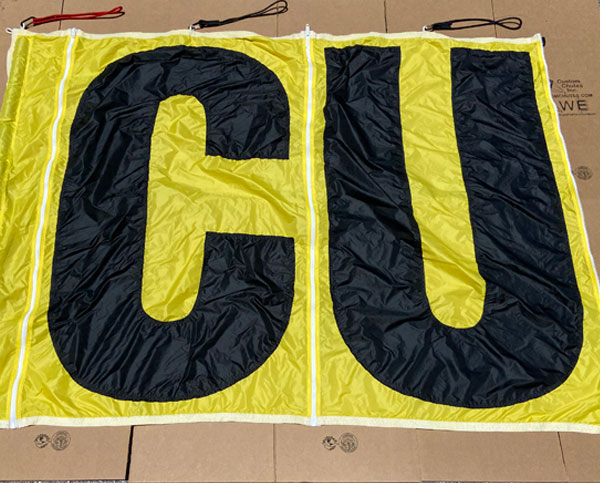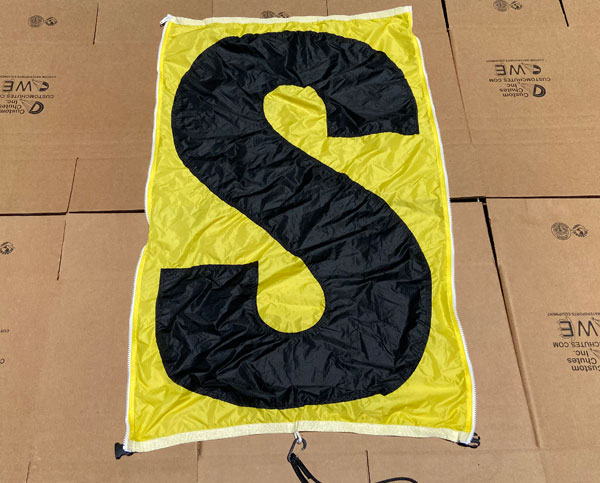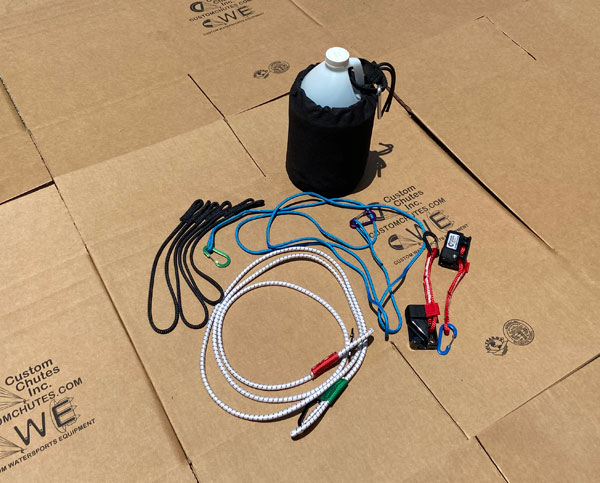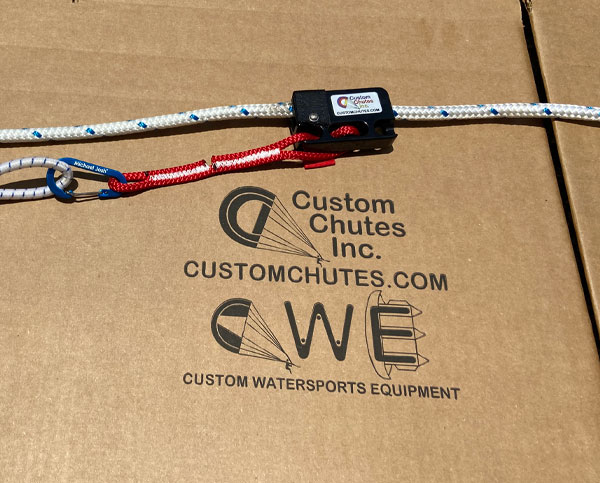 We recommend that all banner users have a ProKit with their banner, this will initial one connection cord, one connection bungee cord, foam stiffeners, 1 Gallon tension weight and two Mid-line custom connection clips. For the Tri-roller style roller head boats, we have an additional part of the ProKit long line loops, this allows the user to pass the banner over the winch post not having to remove it saving time and being more efficient.
Custom Chutes Inc. 1218 50th Ave Plz West, Bradenton, FL 34207
Curtis Clark's Direct Line: (972) 250-6700
Lee Abbott's Direct Line: (941) 713-8463
Custom Chutes Inc. is a parasails equipment design and manufacturing company with heritage of experience dating back over 45 years. Custom Chutes' design and manufacturing team has developed a reputation for the highest standards of excellence and we remain the largest builder of parasail equipment not only in the USA but worldwide.