Recreational Bananas & Trampolines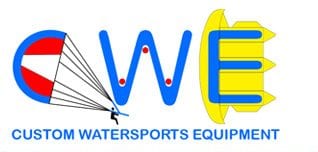 Custom Chutes is proud to offer top quality Banana Water Sleds and Water trampolines from Custom Watersports Equipment for the recreational user.
Custom Watersports Equipment recreational bananas Water Trampolines are made of 1000 Denier UV resistant PVC material, are available in range of smaller sizes more suitable for the use and handling by recreational users.
Custom Chutes Inc. 1218 50th Ave Plz West, Bradenton, FL 34207
Curtis Clark's Direct Line: (972) 250-6700
Lee Abbott's Direct Line: (941) 713-8463
Custom Chutes Inc. is a parasails equipment design and manufacturing company with heritage of experience dating back over 45 years. Custom Chutes' design and manufacturing team has developed a reputation for the highest standards of excellence and we remain the largest builder of parasail equipment not only in the USA but worldwide.